Robert Parker/USA by Stephan Reinhardt
2013 Graacher Domprobst Riesling Auslese #1 Versteigerung 97/100 Punkte
2013 Graacher Domprobst Riesling Auslese #11 96/100 Punkte
2013 Graacher Domprobst Riesling Auslese #14 95/100 Punkte
2013 Graacher Himmelreich Riesling Auslese #4 95/100 Punkte
2013 Graacher Domprobst Riesling Spätlese #9 Versteigerung 95/100 Punkte
2013 Graacher Domprobst Riesling Spätlese #5 94/100 Punkte
2013 Graacher Himmelreich Riesling Kabinett 93+/100 Punkte
2013 Graacher Domprobst Riesling Kabinett 92/100 Punkte
2013 Graacher Himmelreich Riesling Kabinett 91/100 Punkte
2013 Graacher Riesling feinherb 90/100 Punkte
The Riesling Story – Best White Wine on Earth, Stuart Pigott 2014
"Top 20 Medium-Sweet Riesling:
… Willi Schaefer, Graach, Mosel (Germany)
Seldom has a change of generation been so unproblematic as when Willi Schaefer passed on his vineyards to his son Christoph, not least because Christoph had exactly the same idea of racy and super-minerally Mosel Riesling as Dad."…
"Top 20 Sweet Riesling:
… Willi Schaefer, Graach, Mosel (Germany)
The production of Christoph Schaefer may be small, and the wines therefore difficult to obtain, but these are some of the most radical and original sweet Riesling on the planet, and just like the medium-sweet wines, they are super-racy and super-minerally."
Restaurant Wine by Ronn Wiegand / USA

"… Willi Schaefer ( and his son Christoph) produced amazing wines in 2013 from their 10 acres (4 hectares) of top Mittel Mosel sites. … Schaefer's 2013 Rieslings are outstanding across the board – everyone reviewed here first rate…"
mehr lesen: RW 160-162-Willi Schaefer

Eichelmann, Ausgabe 2015
mit 4,5 von 5 von Sterne als "Weltklasse-Weingut" ausgezeichnet
Der Feinschmecker, Ausgabe 2014
4 von 5 F
"…was die beiden Winzer aus ihrem Lagenpotenzial herausholen , ist auch in diesem Jahr erstaunlich…"
WEIN, André Dominé 2013
Parker's Wine Buyer's Guide no 7
Slow Food, Ausgabe 01_2012
Tradition I Von Oma lernen, heißt genießen lernen – die Mosel-Klassiker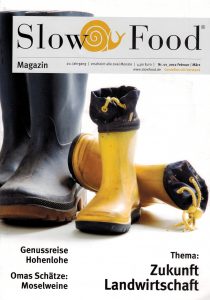 Leicht, duftig, eleganz – und mit Restsüße, so lassen sich die klassischen Rieslinge von der Mosel beschreiben. Sie sind ein wenig aus der Mode geraten.
Zu Unrecht, findet Kai Wagner und stellt seine Lieblinge aus 2010 vor.
mehr lesen: Slowfood_Artikel_01_2012
View from a Cellar, John Gilman / USA

"…for those fortunate enough to find any of the 2013ers from Weingut Willi Schaefer, do not hesitate to buy all that you come across, as this is a monumentally beautyful vintage from the Schaefer family!"
mehr lesen: 2013 John Gilman Weingut Willi Schaefer
Mosel Fine Wines, Jean Fisch and David Rayer
"This is a stunning collection that the Schaefer family has crafted in 2013. This wines combine zest (without acidic hardness), plenty of Graacher aromatics, and the tell-tale light-feathered "silky touch" which has made the success of this Estate over the years."
Robert Parker, The World's Greatest Wine Estates, 2005
Robert Parker zählt das Weingut Willi Schaefer zu den 100 besten Weingütern der Welt.
Vinum / Handelsblatt, Dez. 2013:
Das Weingut Willi Schaefer gehört zu den 100 besten Weingütern Deutschlands.