An ancestor of the Schaefer family was mentioned in a vineyard donation already in 1121. In addition, records show that the Schaefers have been cultivating vineyards since 1590. Johann Schaefer (1809–1878) married Anna Catharina von Meyerbach (1808–1878) in 1935. Her noble coat of arms is still on today's label.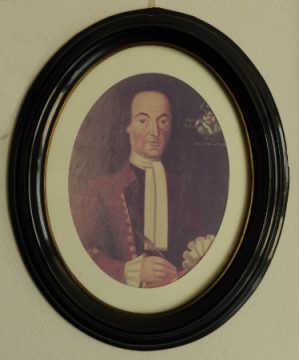 Franz Meyer von Meyerbach and the noble coat of arms
Franz Meyer von Meyerbach (1644–1713) was knighted by Leopold I from Habsburg, Emperor of the Holy Roman Empire of the German Nation in 1705. This was documented by a 16-page patent of nobility in 1707. The Meyerbach coat of arms dates back to 1706.
Franz's parents were Bernard Meyer (1610–1674), a lay judge at the court in Graach, and Christina Philipps (1615–1675).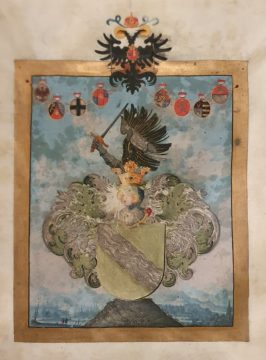 The noble coat of arms
The noble coat of arms of Franz von Meyerbach was brought into our family by his descendant Anna Catharina von Meyerbach (1808–1978). It still decorates the current label of Weingut Willi Schaefer.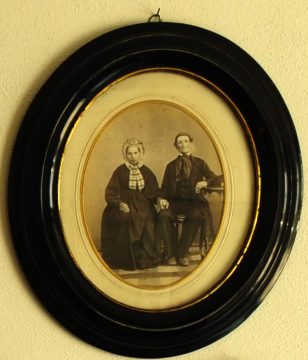 Johann und Anna Catharina Schaefer, née von Meyerbach and the Schaefer family in the U.S.
As a result of the wedding with Anna Catharina von Meyerbach (1808–1878), the winegrower Johann Schaefer (1809–1871) brought the noble coat of arms into the Schaefer family. Anna Catharina von Meyerbach was a daughter of Willibrordus Meyer von Meyerbach (1784–1855) and Margaretha Philipps (1777–1844).
From 1840 to 1847, two of her brothers and one sister emigrated to the United States. The descendants of the three emigrants frequently visited the birth house in Graach and of course they still enjoy to drink Schaefer wines in the States. In 1992, Paul E. Schaefer published a book titled Schaefer History. It also contains the German line of the Schaefer family.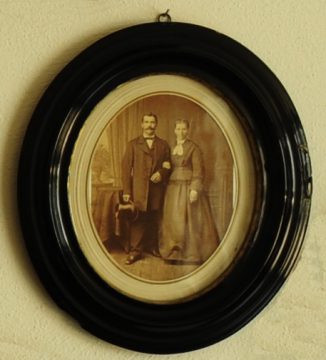 Bernard and Katharina Schaefer
This photograph shows winegrower Bernard Schaefer (1839–1916) together with his wife, Katharina, née Kieren (1839–1911). Later on, son Willibrord Schaefer (1870–1941) took over the winery. Daughter Katharina (1879–1891) died when she was only 12 years old.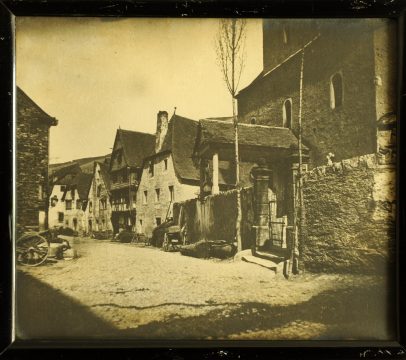 Graach around 1900
The main road in Graach, with the church to the right, around 1900.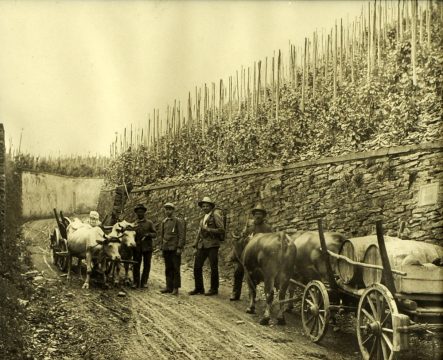 Summer 1928
Notes from Willibrord Schaefer, born on Dec. 8, 1912: "To the right, our wagon for spraying, with two well-groomed cows. Front right, before the cows, my father, Willibrord Schaefer, born in 1870, then Emil Kieren, born in 1898, who worked with us and trained me very well with vineyard work, and next to me Willi Schaefer, born on 12/8/1912. We both have our new backpack sprayers on the back. Alongside, coming from above with the pair of cows, are Peter Köhnen and his wife, Drina, who is sitting on the wagon with the back to the camera. The photograph was taken in the summer of 1928 on the path of the old 'Unter Kordel' area of Graacher Münzlay and Abtsberg, top right, the vineyard of the firm Kaiser."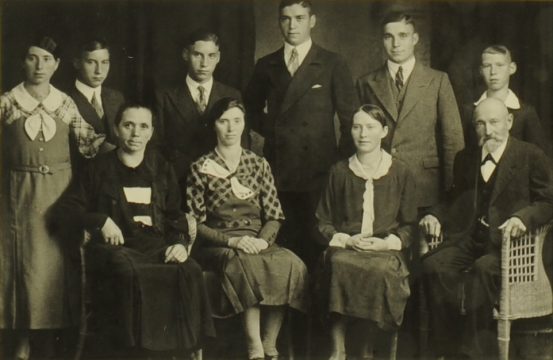 Family photo 1934
This family photo shows (front right) winegrower Willibrord Schaefer (1880–1941). He was a great patron of the church. Together with his hardworking wife, Maria (front left), née Kieren (1880–1952), they raised eight children. In the back (third from the right), is Willibrord Schaefer (1912–1995), who later took the reins of the estate with his wife, Martha. The three sons Klemens, Hermann, and Emil were killed during the Second World War. In 1946, there was a double wedding: Willibrord (1912–1995) and Martha (1924–2013), along with Bernhard in the back (second from the right), and Martha's younger twin sister, Adele. Like Martha, Adele came from today's Weingut Kees-Kieren. Adele died in a scooter accident at the age of only twenty-two.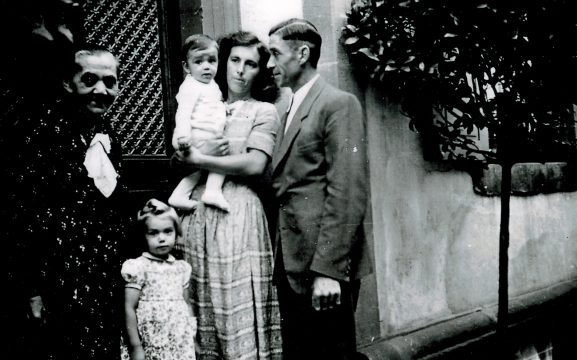 1950 in front of the Dompropsthaus
Till the 1950s, Willi (1912–1995) and Martha Schaefer (1924–2013) made the wines in the Dompropsthaus, the former house of the provost. (On the photo, Willi's mother, Maria, and the children, Edith and Willi.) The family lived and worked there. The limited space prompted the couple to build a new winery in Graach. The manor house and farm buildings of the present-day Weingut Willi Schaefer were built in the difficult post-war period and was completed in 1956. The Schatzkammer with its clay pipes that store mature wines till 1921 was constructed then. The family had to make sacrifices and to save a lot in order make this investment.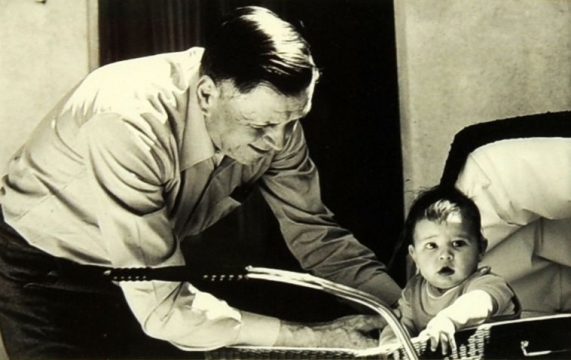 Grandpa Willi with Christoph 1977
Willi (1912–1995) worked at the estate until shortly before his death. He loved his work, his roses, and his family. He was a very popular and friendly man who also was mayor of Graach (1952–1956). He would have surely been proud if he knew that little Christoph (born in 1976) came in his footsteps.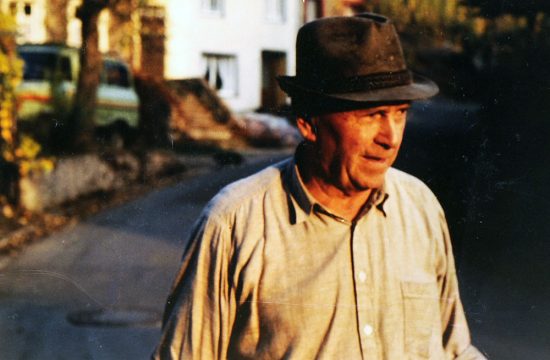 Willi Senior 1977
When Willi (1912–1995) was a young man, the wines tasted rather dry. In 1943, he discovered by chance the future style of the estate's wines. During the cold spell of 1943–44, the fermentation of all the wines was unintentionally stopped before they had fermented all the residual sugar. He was therefore left with an entire cellar full of wines with delicate sweetness. After the Second World War, he fine-tuned his approach to make Rieslings with a wonderful balance between sweetness and acidity. He gave this passion for elegant wines to the subsequent generations.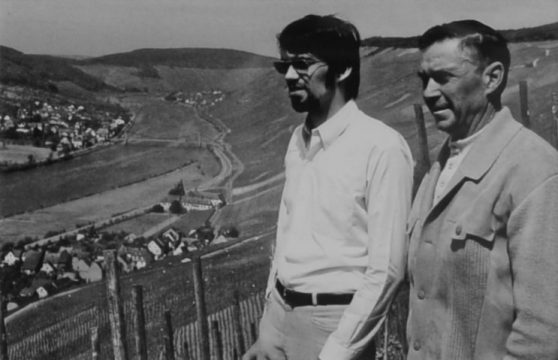 Willibrord Schaefer (1912-1995) with his son Willibrord (*1949)
Willi Sr. was already known for excellent wines. In the 1950s, he began to bottle his own wines, but he sold these exclusively in Germany. With Willi Jr., the estate had international success and gained more recognition. The first large amounts of wine were exported to the United States in 1983, followed by Sweden in 1989, and Japan in 1991. Today, the estate exports about 70 percent of its production and can be proud of its international achievements.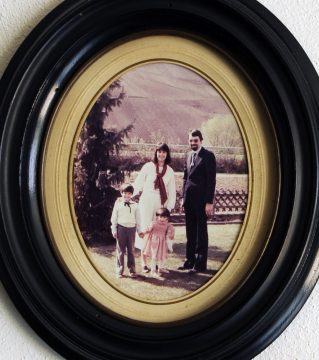 Young family in 1982
Christoph (left front), born in 1976, only has "Willibrord" as a middle name. With three generations in one house, it would otherwise have been too many Willibrords. Juliane (right front), born in 1980, also enjoys Riesling today. She, however, followed the "Knoop's" line for her career. Like her mother Esther, she chose to become a teacher. Her mother's sister and maternal grandparents were also teachers. After her training as a pharmaceutical technical assistant, Juliane completed her studies with a degree in biology and chemistry. Today, she teaches these disciplines at a high school in Berlin.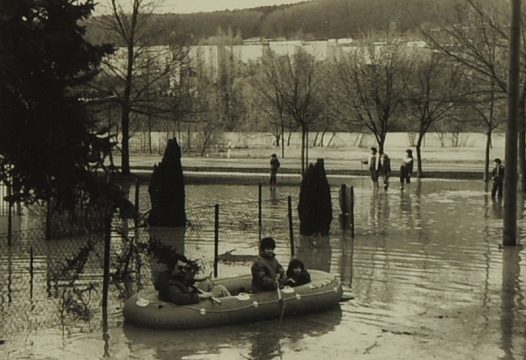 Flood 1983
Willi Schaefer (born in 1949) with his children Christoph (born in 1976) and Juliane (born in 1980) on an unusual boat tour in the yard in 1983.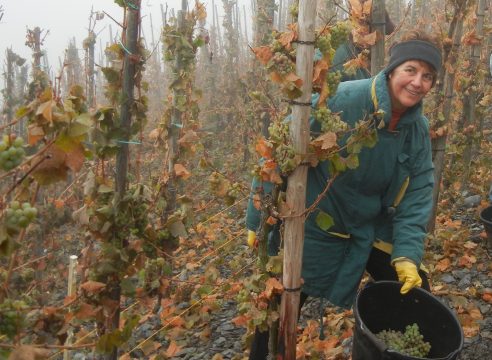 Esther during harvest 1998
Esther Schaefer (née Knoop) was born in 1951. She and Willi lived and worked many years at the estate. Esther also worked as a teacher at a secondary school until 2012. At the same time, she was always there for the family and estate. Her financial independence enabled Willi in economically less rosy times to adhere to his philosophy.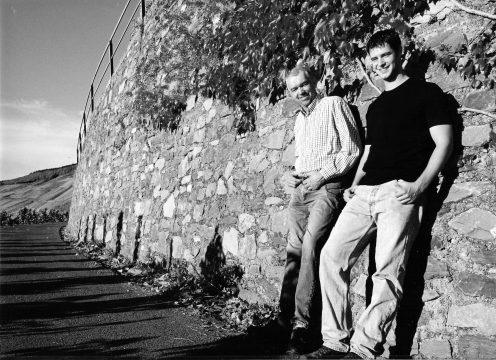 Father and son 2005
As a little boy, Christoph (born in 1976) enjoyed helping his father and grandfather. The family, however, never exerted pressure on him. Willi was very pleased to know that Christoph's interest in the family business steadily grew. After internships at the Biologische Bundesanstalt (Federal Biological Agency) and at Schlossgut Diel, Christoph began his oenology studies in Geisenheim in 1998 and completed them in 2002. He met his future wife, Andrea, there. Together they explored other wine regions and completed internships abroad. Christoph gained valuable work experience at De Wetshof Estate in South Africa and Saintsbury in California. Since 2002, he has headed the family estate with his father, Willi. In order to meet a doubling of the vineyard holdings (2.1 ha in 1993; 4.2 ha in 2015) over the years, Christoph and Andrea invested in a new warehouse and tasting room in 2010.
Willi Schaefer 2009
Willi was firmly integrated in the family wine estate already at the age of twenty-two. His first vintage running the estate was 1971. He received his master craftsman's certificate in 1974. In the same year, he married Esther Knoop. Christoph was born in 1976, and Juliane in 1980. One of Willi's first wines was a 1971 Graacher Domprobst Beerenauslese, which was later sold at the 2008 VDP wine auction in Trier for 1,200 euros. But also in difficult vintages, Willi showed that he could make excellent wines.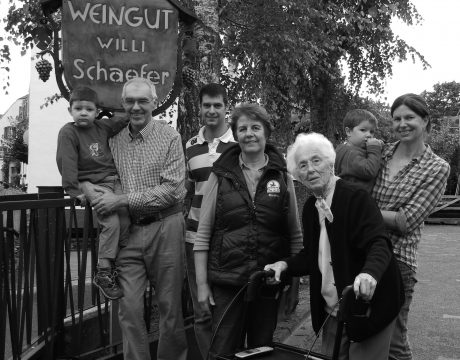 Last family photo with grandma Martha
Martha Schaefer—née Kees (1924–2013)—came from today's Weingut Kees-Kieren. She survived her husband, Willibrord, who was 12 years her senior, by almost 20 years. The vineyard was her life, and it kept her very busy. As she approached 80 years old, she could no longer walk in the steep slate slope for health reasons. She was the center of the family until her death in 2013. She never lost her sense of humor and liked to tell stories from the past. Her hard work has contributed much to the success of the family wine estate.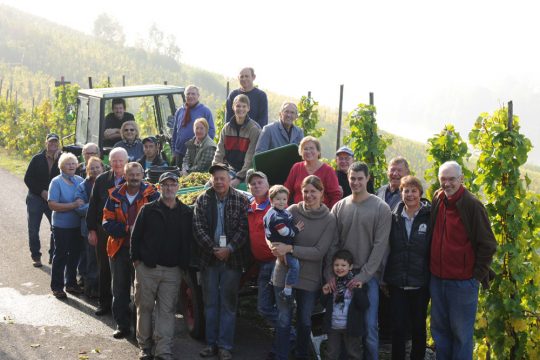 Harvest 2012
The winery family with faithful helpers from Graach, Poland, Sweden, and Robert Schaefer from the United States.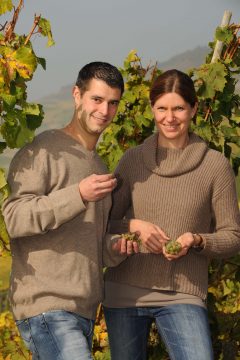 Christoph und Andrea 2012
Andrea and Christoph first met during their studies in viticulture at Geisenheim. The two complement each other perfectly, both professionally and personally. Andrea enjoys to drink Mosel Riesling, rather than to make it. On the other hand, her expertise lies in areas that Christoph doesn't like to do so much. Before Andrea's studies in viticulture, she completed her training as a restaurant specialist at the five-star Hotel Traube Tonbach. Andrea, who comes from Kaiserstuhl, was the wine queen of Baden for one year and did numerous internships in Provence, Bordeaux, South Africa, and California, among other places. She also learned to become a budget analyst. After completing her studies at Geisenheim, she worked as a sales manager at Reichsgraf von Kesselstatt from 2002 to 2009. Since then, she is also involved in the family estate.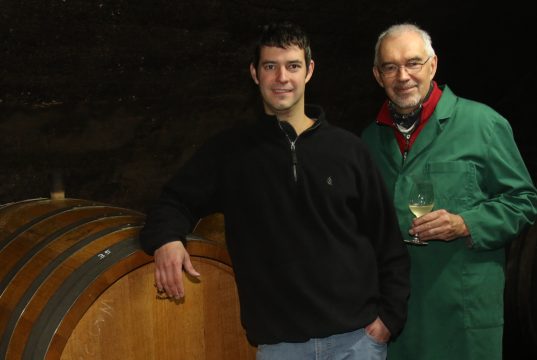 Change of generations 2015
In summer 2015 Willi handed over his beloved life work to his son Christoph and his wife Andrea.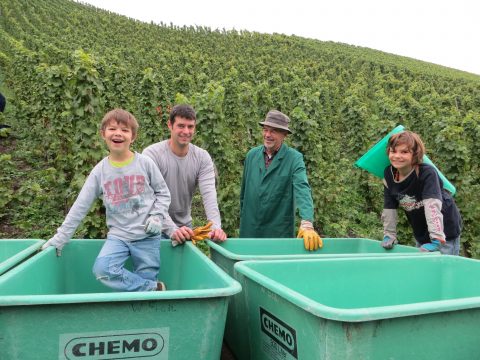 Vintage 2015
Die "Schaefer-boys" are more than happy about harvest 2015.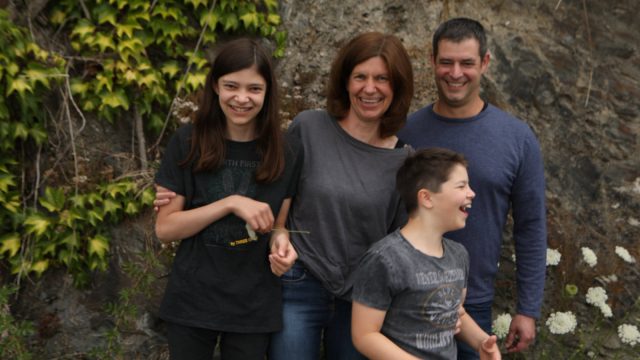 Today
2021 – 900 years after an ancestor of the family was receiving vineyards as a donation – we are more than grateful to be enabled to continue the work of countless generations before. Fine wines, handcraft, nature, international contacts and family – united in one profession and passion – this really is a wonderful treasure.