MASTERPIECES OF MOSEL
VDP.Mosel-Saar-Ruwer VDP.GROSSER RING
Thursday, September 17th 2020
IAT Plaza Hotel, Trier
Tickets and info: Grosser Ring VDP.Mosel-Saar-Ruwer
Fabian Theiss, grosserring@web.de, +49 (0) 651-75041
133. ANNUAL AUCTION VDP.GROSSER RING
VDP.Mosel-Saar-Ruwer
Friday, September 18st 2020
IAT Plaza Hotel, Trier
Tickets and info: Grosser Ring VDP.Mosel-Saar-Ruwer
Fabian Theiss, grosserring@web.de, +49 (0) 651-75041

Big Bottle Party, Weinhaus Büsching, Trier
Friday, May 8th 2020
Tickets and info: info@weinhaus-trier.de
www.weinhaus-trier.de
La Musica del Vi 2020, Barcelona
Monday, March 2nd 2020, 11am-08:00pm
Tickets and info: www.vilaviniteca.es
MASTERPIECES OF MOSEL
VDP.Mosel-Saar-Ruwer VDP.GROSSER RING
Thursday, September 19th 2019
IAT Plaza Hotel, Trier
Tickets and info: Grosser Ring VDP.Mosel-Saar-Ruwer
Fabian Theiss, grosserring@web.de, +49 (0) 651-75041
132. ANNUAL AUCTION VDP.GROSSER RING
VDP.Mosel-Saar-Ruwer
Friday, September 20st 2019
IAT Plaza Hotel, Trier
Tickets and info: Grosser Ring VDP.Mosel-Saar-Ruwer
Fabian Theiss, grosserring@web.de, +49 (0) 651-75041
GERSTL WEINSELEKTIONEN
Tasting "German Wines & Riesling 2018″
Wednesday, September 04th 2019, 4-8:00pm
Volkshaus Zürich, Switzerland
Tickets and info: Degustation_Weinseletkion_Gerstl
BAYER WEINKELLER, Leverkusen
4th International Wine Festival, Saturday, 11 May 2019, 2-7:00pm
Information & tickets: Termine_Bayer_Weinkeller
Big Bottle Party, Weinhaus Büsching, Trier
Friday, 10 May 2019
Information & tickets: info@weinhaus-trier.de
www.weinhaus-trier.de
131th Annual Auction
Friday, 21 September 2018
Grosser Ring VDP.Mosel-Saar-Ruwer
IAT Plaza Hotel, Trier
9:00h -11:00h Pre-Tasting of Auction Wines (40,00 Euro)
13:00h – ~18:30h Auction (45,00 Euro)
Information & tickets: Grosser Ring VDP.Mosel-Saar-Ruwer
Fabian Theiss, grosserring@web.de, +49 (0) 651-75041
GALA GROSSER WEINE, Arminiusmarkthalle, Berlin
Sunday, 24 June 2018, 14-19:00h
by Wein & Glas Compagnie, Berlin
Information & contact: mail@weinundglas.com

Saturday and Sunday, May 26th + 27th 2018, 11am-6pm
Mythos Mosel
…also at Weingut Willi Schaefer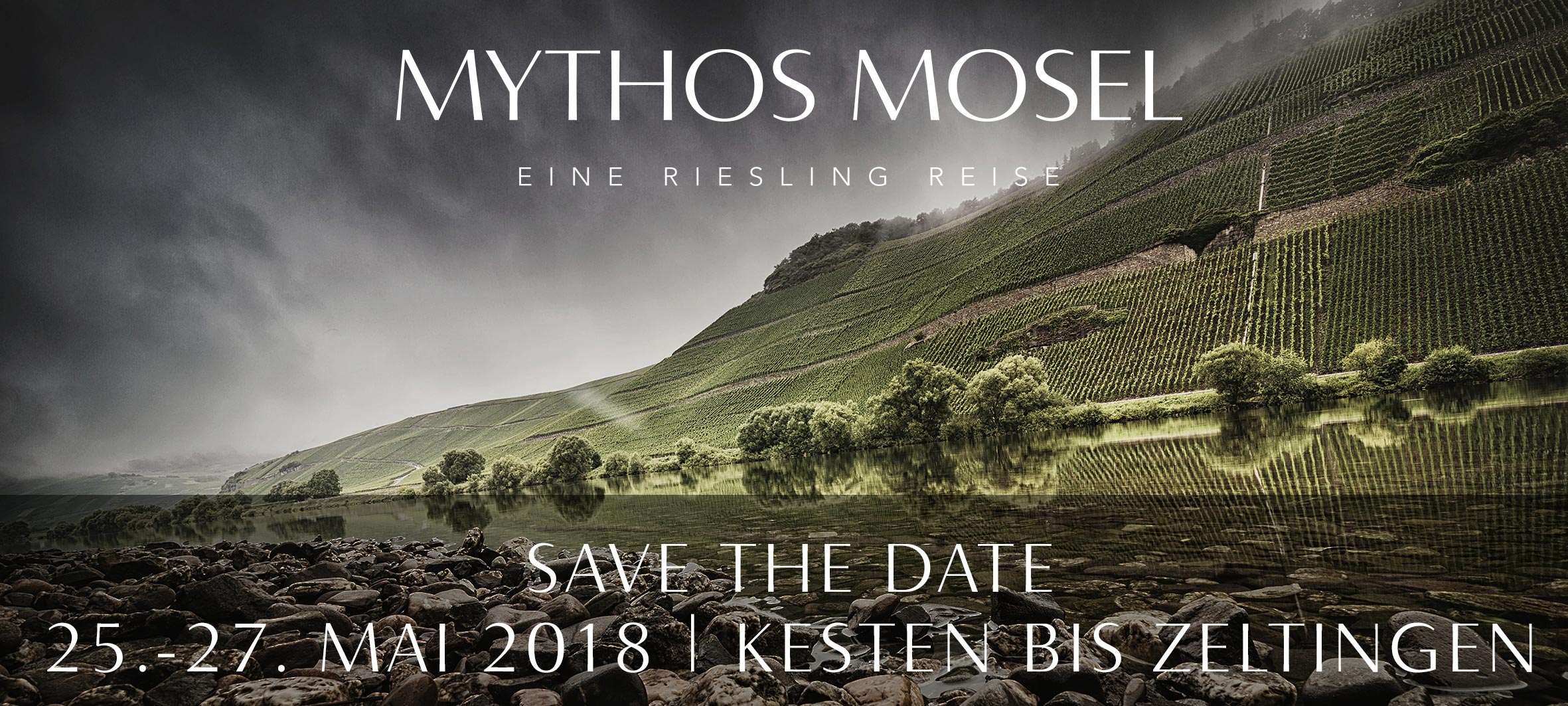 our guests:
Joh. Jos. Prüm/Wehlen, Reichsgraf von Kesselstatt/Morscheid, Weiser-Künstler/Traben-Trarbach
Information & tickets: www.mythos-mosel.de
Big Bottle Party, Weinhaus Büsching, Trier
Friday, 20 April 2018
Information & tickets: info@weinhaus-trier.de
www.weinhaus-trier.de
Riesling-Gala, Hotel Bayrischer Hof, Munich
Saturday, 18th November 2017
DER FEINSCHMECKER
Nearly 70 top wineries are presenting their young and matured wines.
Tastings, walking dinner, live music.
For tickets (125 € per person) please contact redaktion@der-feinschmecker.de
Friday, 10th November 2017
Riesling Beats Volume 4 – Rieslinghaus, Bernkastel-Kues
For tickets please contact: +49 (0) 6531-6258

Friday, 15th September 2017
130th Annual Auction
Grosser Ring VDP.Mosel-Saar-Ruwer
IAT Plaza Hotel, Trier
9:00 -11:00 Pre-Tasting of Auction Wines
13:00 – ~18:30 Auction
For tickets please contact Grosser Ring VDP.Mosel-Saar-Ruwer
Fabian Theiss, grosserring@web.de, +49 (0) 651-75041
Saturday, 19th November 2016
Riesling-Gala, Hotel Bayrischer Hof, Munich
DER FEINSCHMECKER
Nearly 70 top wineries are presenting their young and matured wines.
Tastings, walking dinner, live music.
For tickets (125 € per person) please contact redaktion@der-feinschmecker.de
Friday, 16th September 2016
129th Annual Auction – VDP.GROSSER RING
IAT Plaza Hotel, Trier
Friday, 9th September 2016
DEUTSCHE WEINE & RIESLINGE 2015
Kaufleuten Zürich, Switzerland
www.gerstl.ch
Thursday, 16th June 2016
Annual tasting Howard Ripley, London
www.howardripley.com
Saturday + Sunday, 11th-12th June 2016
Mythos Mosel
We are attending at Weingut Lous Klein, Traben-Trarbach
together with Weingut Weiser Künstler, Schloss Lieser, Kirchengut Wolf.
Visit us and meet more than 70 further estates attending at around 25 wineries between Ürzig and Pünderich.


www.mythos-mosel.de
Thursday, 28th January 2016
Gran Gala tasting event – Premier Wines –
Prag/Tschechien "Palac Zofin"
http://www.1er.cz/
Saturday, 21th November 2015
Riesling-Gala, Hotel Bayrischer Hof, Munich
DER FEINSCHMECKER
Nearly 70 top wineries are presenting their young and matured wines.
Tastings, walking dinner, live music and midnight buffet.
The tickets cost 120 € per person and you can reserve them directly under:
redaktion@der-feinschmecker.de.
Saturday, 19th September 2015
128. Annual Auction VDP.GROSSER RING, Trier
VDP.Die Prädikatsweingüter